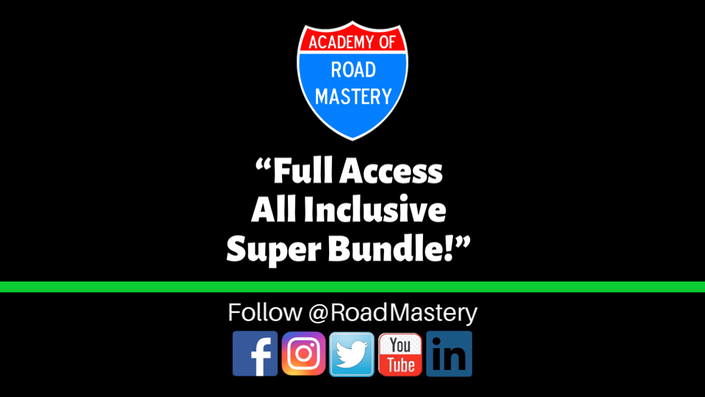 Full Enrollment Bundle (Beta Test Group)
"Full, Lifetime, All Inclusive Enrollment - Limited Pre-Sale! - Get ALL Current and Future Courses with *UNLIMITED Quiz Re-takes and Certificates!"
Enroll in First 30 Beta Group
This is a FULL ENROLLMENT offer in search of 30 founding BETA Testers. What this means is that your input will be invaluable in presenting and creating the content in many of these courses. As it is now, besides the free mini-courses, there is video (1hr. 30min.), text and quizzes in 2 of the 18+ courses.
It is our goal to quickly and professionally create powerfully effective videos for each course. This is why it is important to open the doors for EARLY ENROLLMENT.
A private, members-only fb group will be available for each of the FREE mini-course interests (ie: Efficiency, Anxiety and Mastery. And eventually Teen, Elderly and Truckers.) Each focused on building mastery for one and all. (Beta Test Group will start with a single private group.)
"Evolving Gloval Driving Stands by Empowering Individuals To Foresee, Predict and Prevent Accidents and Congestion!", is our mission!
Read below to see if you will be a good fit and to understand what's in it for you!
Your Instructor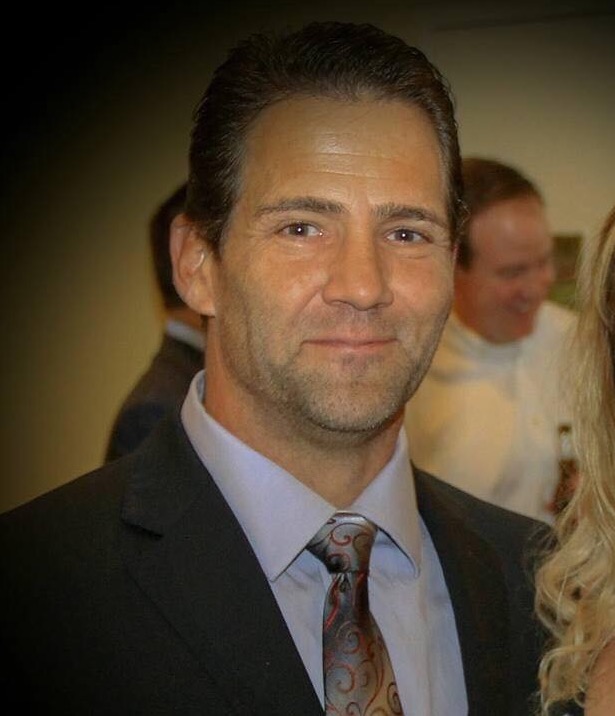 Alex has been writing and coach on 'master driving skills' since the mid 90's. What started as 'tips to cut commute times', quickly turned into 'the science of traffic congestion'. He's written works on 'mastering efficiency', the cause and cure of traffic congestion, eliminating fears and building mastery, how to prevent teen and pedestrian fatalities and the importance of skill building (handling, timing, communication, momentum, 'reading traffic' and predicting others' actions).
He is very clear on his mission of evolving global driving standards and knows and sees that virtually all traffic congestion, accidents and fatalities are completely unnecessary.
"There are many layers to becoming a skilled, masterful driver, each providing clarity, confidence and opportunity for growth!"
"Love your website… And information. I teach driving safety and have learned a lot from your site!"
Thanks, Joni @ First Class Defensive Driving Fort Worth, Texas
"Superior skills is what it takes to prevent and avoid most all accidents and traffic congestion!"
There are 7 specific skill sets involved in building driving mastery to the point to where one can not only understand the cause of traffic congestion and accidents but also be able to FORESEE, avoid and prevent them on a regular basis.
You heard that right! ...With the right knowledge and skills, YOU CAN foresee, avoid and prevent accidents!

Are they all preventable? No, of course not. But most all of them are! ...In fact, every day, many people avoid accidents because of the skills and knowledge that they have acquired. ...It's either a spine chilling experience (too close) or an exhilarating feeling (saw it coming). Both of which are far better than the dread, sorrow, pain and regret that come from not being able to avoid an accident in time! Am I right?
The questions then become, 'what skill sets are those?' and 'can't I get this information anywhere?' ...THIS is what I've spent the better part of the last two decades experimenting with, thinking about, testing, integrating deeply, uncovering, writing, documenting, mastering and coaching.

You could do the same. But I'd love to save you years of time and frustration and help you fast track your mastery.
This is what we are putting together here at the academy, for you! And 'No', you can't get it just anywhere. As you'll see soon enough, Academy of Road Mastery is unique in it's teachings, as well as it's approach to 'understanding and solving traffic problems' and 'building mastery and eliminating fear'. (You will be able to apply and use much of the knowledge in MANY areas of your life. (It is my most common testimonial.) For many, these courses will be truly lifesaving, outside of driving! That's priceless.)
"…Driving has become more of a fun experience, having more confidence and feeling free to drive without fear. Being able to increase my experience I want to start going out on the road more to increase my confidence and self esteem. I look forward to it. Without this knowledge I would not be able to drive in traffic or have the self esteem that I have. Everything that I am reading and experiencing has given me so much more to live for. Not just in my driving but in my life in the knowledge that I am taking in. My mind is open and free to experience everything without fear. Hunter, Thank you for giving me the confidence and experience in my driving. Thank you from the bottom of my heart,"
Gloria R. Ft. Collins, Colorado
As you take on this journey of mastery, I am completely confident that you will quickly SEE the cause of traffic congestion, SEE how it can be avoided, and BE ABLE to actually avoid and prevent it, far more than you currently do!
Your personal confidence and power will also increase as a result of gaining real world knowledge and experience to replace the false beliefs that we were taught and continue to hear on a daily basis. (We don't know what we don't know, and there is tremendous growth potential in 'driving mastery' that most of society go their entire lives without ever knowing! ...Some, sadly, far before their time!)
Easily building personal power, confidence, freedom, control, mastery and safety is our goal for you here at Academy of Road Mastery! (Let me know how we are doing and if there is a specific area or topic you would like addressed more deeply.)
This is what I wish for everybody. But it is not for everybody!
Who is this for?
This is for...
Daily commuters who want to reduce commute times, be more efficient and experience less traffic congestion and frustration. - Your commute is close to my ❤️ because 'the cause and cure of congestion' is my ORIGINAL MASTERY! I can talk it, dissect it, solve it, explain it and coach it, like NOBODY else on the planet! Much of what I have to share with you is simple and happens dozens of times per day! But the real savings coming from real knowledge and skills. This is what I am offering you. And I am 100% positive that you can easily cut your commute time and save thousands in gas, frustration and maintenance!
Those who appreciate/want driving mastery for it's power, confidence and control, for the 'adrenaline of driving' AND in order to have the advantage in any situation. - You are probably already aware of much of the driving 'mis-information' that is still taught today. You'll be happy to know that I'm here to put it on the 'official record' and to set history straight, once and for all! Join me on this life-saving, revolutionary mission! There is power in numbers! ...And in speaking up with facts, knowledge and proof of skills. (You get 'Certificates of Completion', as well as official Academy of Road Mastery Credentials, upon successfully graduating! You can use it to showcase/prove your expertise in specific areas whether it be to a potential employer, insurance company, officer or judge. ...I'll share more on this later.)
Those of you who have driving anxiety and driving fears, YOU are who I help the most in my one-on-one coaching. And it's because you WANT a change. You want solutions! You want to know 'WHY'! You want it to be different! And you especially want someone who understands YOUR specific situation and who won't tell you to 'just go and drive, it'll get better'. ...I know what you want. And I can and will give you what you've been looking for! The skills and knowledge to experience joy while driving are within your reach.
Also for large companies for all of their employees' safety and well-being, physical and mental! Not only will you commuters have more time, be happier, less stressed and more problem solving, you will also be influencing and affecting tens-of-thousands of other drivers positively, daily. ...Twice a day! (Get your company to reach out to me for bulk purchase discounts, HERE. Tell them, "Hunter said that it's for forward-thinking companies looking to increase productivity and set a precedent." They can thank me later.
For delivery drivers and companies to gain market advantage by increasing productivity, credibility, safety and efficiency. Everything from pizza delivery to Uber, Lyft and bus, shuttle and trucking companies. This is for all of you!

And for many others looking for skills and personal empowerment.
A Verified Amazon Review for my most recent book, 'How To Get Better Than Your Estimated MPG/KPL; The 9 Elements to Mastering The Art of Efficiency That Saves Lives and Prevents Millions of Accidents, Daily!'
(Michael's Honda Civic is rated for 41 mpg.)

Jessica is still crushing it...

"Before talking with Hunter, I had a huge fear of driving on the highway, & avoided it at all costs. It made it hard for me to get places, & i would have to take longer, unnecessary routes, unless I had a ride from someone else. After talking to Hunter just a couple times, I was on the highway & felt much better about doing so. Now I'm on the highway almost everyday, driving to work & to other places that without the highway, would have taken much longer trips or someone else to drive. Thank you Hunter!!!"
Jessica Today Joliet, IL
And a testimonial of my original work, 'The Complete Science of Driving'...
"I have personally used Alex Hunter's advanced driving tips and techniques and they are powerful. The NEW knowledge in his e-book is top notch, and when understood saves gas, time on the road, congestion, accidents and road-rage. Without a doubt, his tips and knowledge are a necessary value to every driver on the planet today."
Sincerely, Chantz J. Charon, Hollywood, Ca
As I mentioned, this is NOT for everyone...
There are those who have become 'incapable' of thinking outside the box, as well as, those who are hopelessly dependent upon a broken system and who will fight to protect it! And they will absolutely resist this knowledge of change because it is counter to many common teachings and is NOT about creating fear, controlling people, limiting people or telling or making people drive a specific way. Please read that again!
These transformations do NOT include...
Creating fear (Quite the opposite)
Controlling people
Limiting people
Telling people how to drive
Making, forcing or even wanting people to drive one specific way
...The way I see it, ALL of those things are a significant reason why we have the traffic problems that we do! And not only don't I do those things, I advocate against them.
I have three main standards when it comes to coaching 'driving mastery'.
We are all responsible for our own actions and in action! (I take responsibility for my words and actions, and request the same from you!)
I won't tell you what to do, how to think, how to act or how to drive. What I will do, is provide proven, valuable knowledge, insights and exercises.(Being told 'what to do' is a large part of why we have the traffic problems that we do!)
I want you to want to build your driving skills. (Whether it be for personal mastery, more confidence, less stress or anger, saving gas, smoother commute, future insurance rates, for your job or business, duty to your family or to yourself... it's important to me that you WANT this personal evolution. ...And an evolution it will be. Many layers deep!)
Another Verified Amazon Review by another professional driving advocate. She says a lot when you take the time to hear her...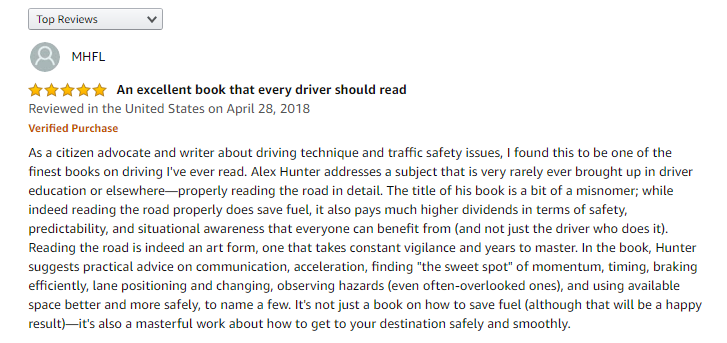 Let me share what you get with your Full Enrollment. The likes of which I've never made available before. ...I'm looking for the right 30 unique individuals, all across the mastery spectrum, to help make Academy of Road Mastery a life changing experience for millions of people. (It doesn't matter your current status, only that you desire to improve/build mastery. And offer some feedback, input or participation, in one way or another. 💁‍♂️❤️
Here's What You Are Getting
With Your FULL Enrollment!


The main 'core bundle' contains 'the 7 fundamental courses to building mastery and becoming a well-rounded driver who can predict and prevent congestion and accidents'! ($1,379 value for $997)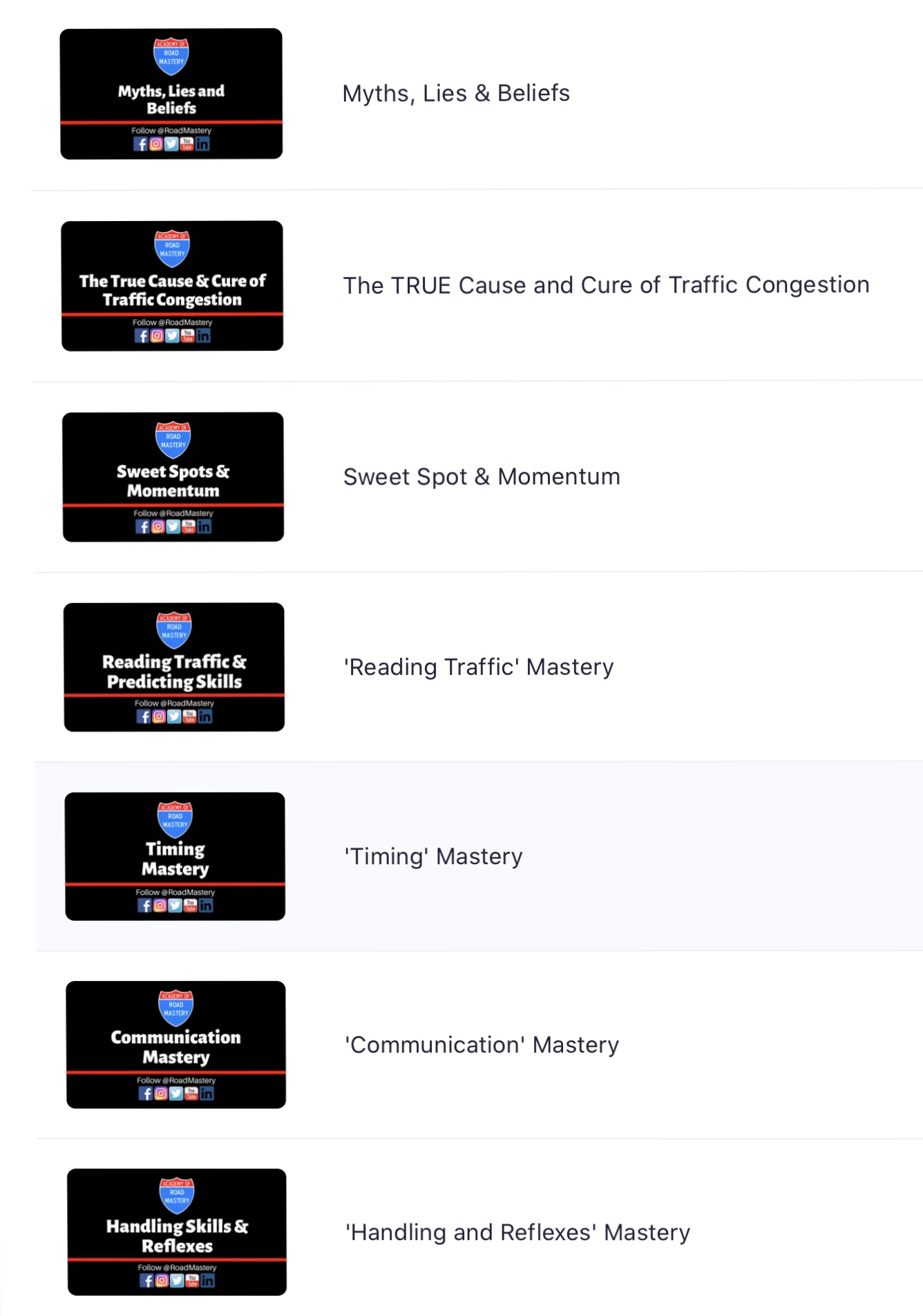 You also get all 3 mini-courses, which all contain beneficial information for transformation.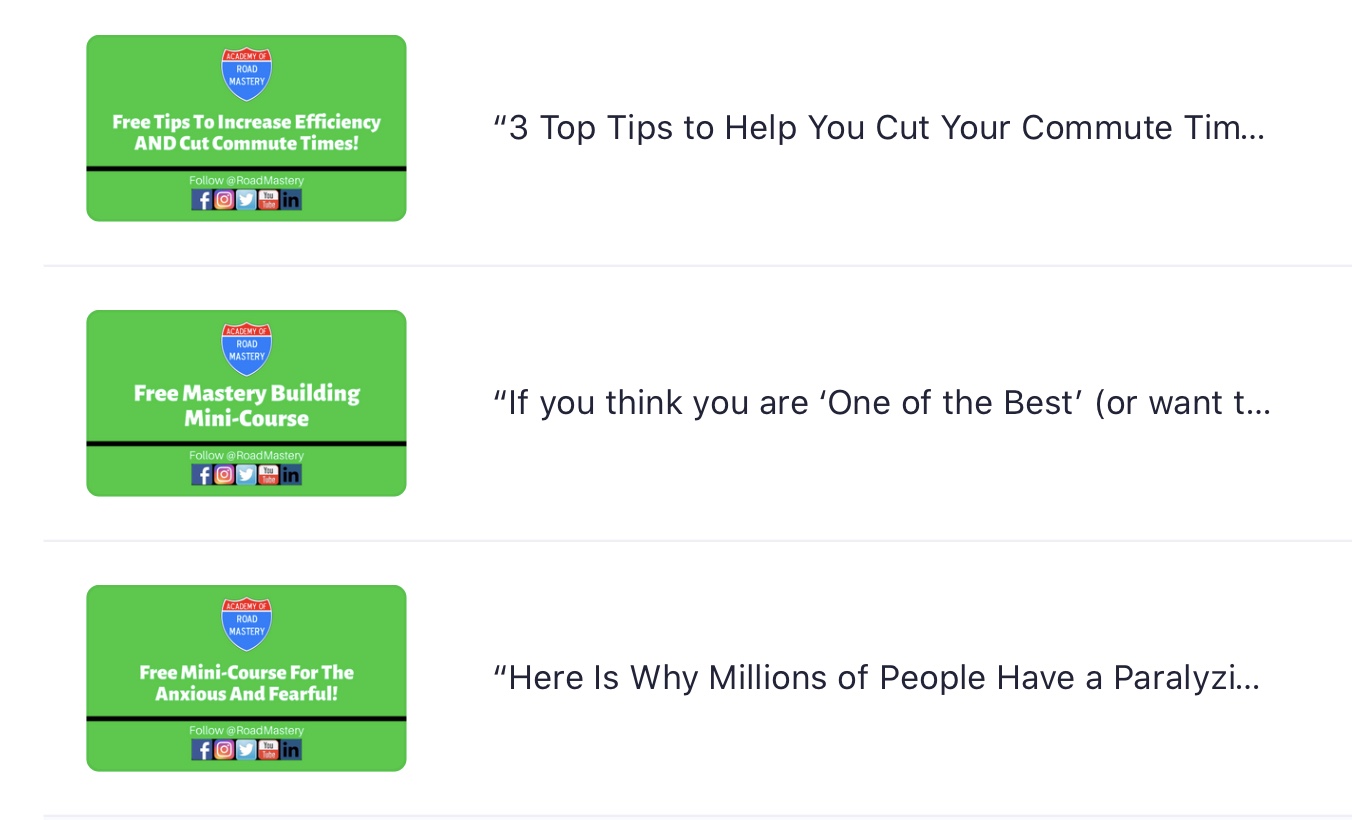 Plus ALL Supporting Courses...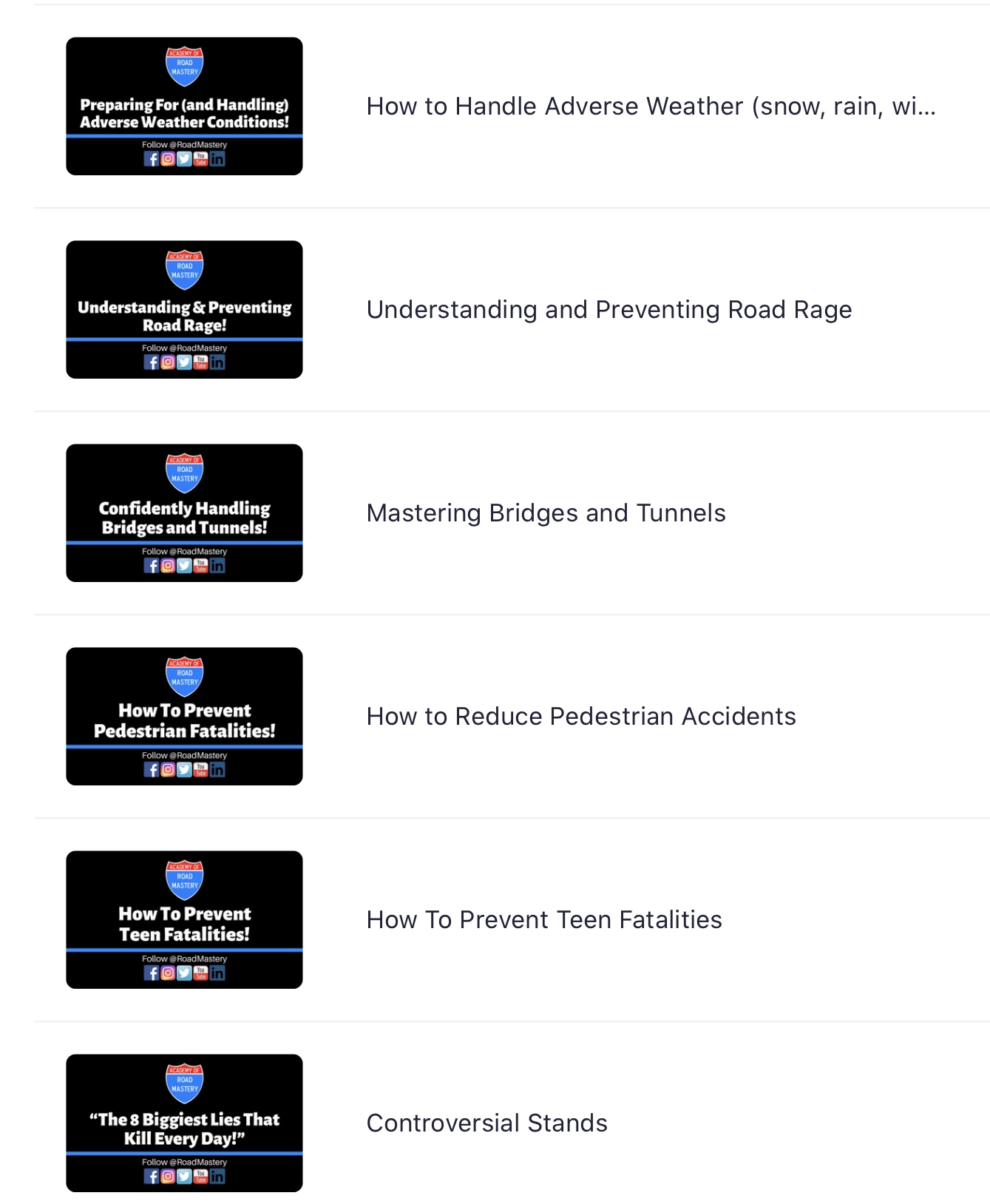 I'll also make sure you get direct access to all PSAs (Public Service Announcements) that are cued for creation.

Preventing Teen Fatalities
Preventing Pedestrian Fatalities
How to Handle Yourself Around Emergency Vehicles (not what you may think!)
How to Yield Wisely
Handling Round-a-Bouts Wisely and Efficiently
The Impact of One; Good and Bad
Why using headlights prevents millions of accidents and saves lives; And how we can easily prevent millions more!
Driving at Night; How to Prevent Night Blindness

PLUS.... Any and ALL future courses! There are several more to be added to the curriculum and you will get them all.

You also get Lifetime Membership!

"Again, only the first 30 are guaranteed ALL courses, classes, PSA's and bonuses, plus unlimited quiz retakes* and certifications** AND lifetime membership!"
Dear Alex, "I really appreciate your efforts in spreading the knowledge of driving skills. It isn't everyday that people share vital information that can save lives on the road. I sincerely thank you for giving me that info months back. Before that, I was always having near-collisions on Salem's town roads. I told my friends and family and their now set to carefully drive smarter. Your crucial efforts have definitely been worthwhile."
Sincerely, Michael Sobrado Windham, New Hampshire
I truly believe that one piece of information, one insight, one increase of one skillset could have prevented most accidents. ...and can prevent most future accidents. One piece of information! (If you are 'one of the best', I know that you KNOW that I know what I'm talking about here.)
...One piece of information CAN save a life! What do you think a few hundred would do? And it's not the same, deadly mis-information that most of us were taught. (If the current system worked successfully and had valid information, traffic congestion would be a non-issue and driving accidents wouldn't be the #1 killer of teenagers!)

Are you ready to become one of the most skilled and knowledgeable drivers on the road? And to have the certification to back it up?
And yes, I can honestly say that you can 'become one of the most skilled and knowledgeable drivers on the road' with what you will learn here at Academy of Road Mastery! That's how deep and powerful this information is. ...Take what you know and amplify it.
My life's work that you are getting here, can easily have you seeing, thinking and acting on a level far superior than those around you.

Do yourself, your family and the world the honor of being among the first!
Here's a heartfelt ❤️ testimonial that I love revisiting. It's from a TRANSFORMED student who only had a fraction of the information that you'll be getting!

Dear Sir, "…I have made tremendous progress in both driving and life control because your well researched and articulated information is comparable both on road as well as in real life situations. Genuinely, I confess the information has really changed my perception on a broad wavelength even though, some of the 'difficulties' are not relevant here in Kenya."

(And a couple months later Joel wrote…)
Dear Sir Alex, "I wish to let you know how much i gain from your messages that not only serves as a guide towards safe driving but, also as a real mind opener, since i started seeing things in the light of your concepts I have really made a very enormous improvement, with a humble tone may I say that your articles have made a driving/thinking specialist within me. I'm now touted as one of the best drivers in our organization… I had a lot of fear… Now it is no more, all that is in me, is total control that emanates from real confidence."
Sincerely, Joel Mwangi TBN Family Media Nairobi, Kenya
* 'Unlimited quiz retakes' does not mean 'automatic unlimited retakes'. As it currently is, you have 1 automatic retake. Founding members can request a quiz reset at any time. And they will get it.
** You will receive your printable Course Completion Certifications whenever you complete a course. ...To become Academy of Road Mastery CERTIFIED and VERIFIED (with hardcore credentials and unique ARM identifier) will require FULL graduation with passing scores in all courses, as well as admin validation and recommendation.
- Quizzes will continue to be upgraded to maximize effectiveness. 'Driving mastery' is the objective, not just completing everything.
Frequently Asked Questions
When does the course start and finish?
The way we currently have it, courses starts when you are ready and never ends! It is a completely self-paced online course - you decide when you start and when you finish.
How long do I have access to the courses as a founding member?
How does lifetime access sound? After enrolling, you have unlimited access to this course for as long as you like - across any and all devices you own.
What courses are currently available?
Currently, course content is available in the 3 mini-courses and 2 main courses.
Why does it cost to be a founding member?
Three reasons: 1. It's already worth the asking price. 2. Because without 'skin in the game' most people won't value what they have and won't take it seriously. Tried and tested! 3. Creating the videos that will 'evolve global driving standards' won't be cheap and will require funds.
What is the role of a 'founding member' or 'beta test member'?
Ideally, I'd love your feedback and questions, likes and dislikes, wish to see, etc... so that more effective and powerful courses can be created.
If you don't see the coupon for the current pre-sale beta launch special, go to https://academy-of-road-mastery-llc.teachable.com/ and enroll in your desired FREE mini-course. (Also, thIs coupon is only available for the first 30 member Beta Launch Team and may already be deactivate. If so, you are still welcome to join at full price. It'll be worth 10X the investment!)