Academy Of Road Mastery
"Empowering Individuals to Predict and Prevent Traffic Congestion, Accidents and Fatalities!"
Welcome to Academy Of Road Mastery, where our mission is, 'Evolving Global Driving Standards by Empowering Individuals to Predict, Prevent, Eliminate and Avoid Congestion and Accidents!" Our goal here at the academy is to provide society with the knowledge, insights and exercises that make it possible to not only achieve smooth traffic flow but to consciously prevent accidents. (which much of society currently has backwards)

Yes! You ABSOLUTELY can prevent traffic congestion and accidents! Almost all are unnecessary, and we aim to prove it to you, and then the world.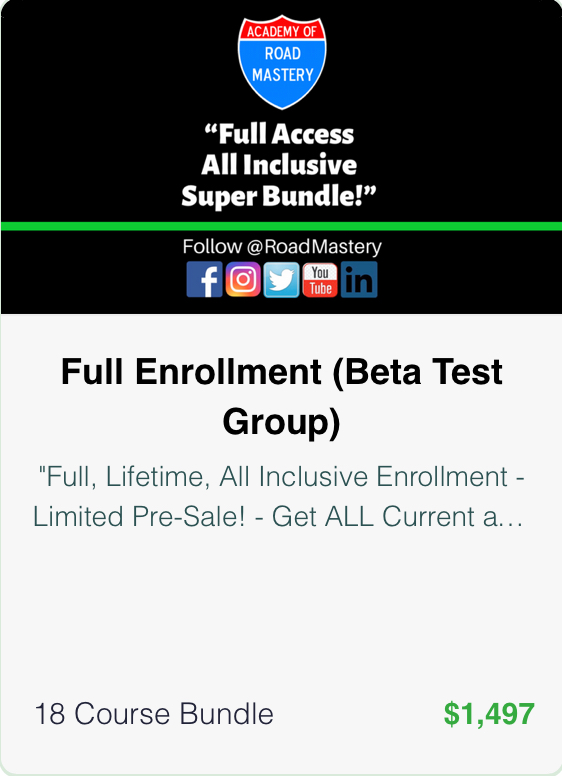 Now OPEN for early enrollment Beta Test Group!
Enroll in your desired free mini-course, down below

(the GREEN ones)

Complete free mini-course and quizzes for discount code and Completion Certificate
Submit request to join
(Here is what is included with Full Enrollment. But make sure to enroll in a free mini-course below to get your private discount code.)

Start your Academy Of Road Mastery enrollment by choosing one of the three free mini courses below.

There's one for...
'anxious and fearful'
'cutting commute times and increasing efficiency'
and one for those of who KNOW that they are 'one of the best' on the road!
Whichever you choose and wherever you are on the 'mastery spectrum', my goal is to empower you with valuable, actionable, relevant insights and tips for you to immediately benefit from, which I take very seriously.
Enjoy! And please let me know how I've fulfilled on that goal and what you'd like me to expand upon further or next."
Alex Hunter - Author & Founder